One in every 59 children in the United States is diagnosed with an autism spectrum disorder, which means the odds are great that you will interact with someone on the autism spectrum at least once in your life. And what if you were a first responder encountering a person with autism during an emergency; would you know how to identify them and would you know how to address their needs?

These are the very real questions brought up during special training sessions for law enforcement officers, EMTs, school resource officers and other first responders presented by United Way of Broward County's Crisis Intervention Team (CIT).  Adding to the impact are two trainers: Robert Becerra, a 23-year-old man with severe autism, and his mother, Teresa. 

The pair have been leading the two-hour workshops in Broward County for the past three years. Although Robert is nonverbal, he is able to communicate through an augmented talking program on an iPad.  

Teresa started teaching law enforcement in Connecticut many years ago after seeing a television news report where a couple was arrested on neglect charges when their 5-year-old son with autism wandered away from their home. She approached the local police department to offer classes. "I realized that law enforcement needs to learn how people with autism behave and how to determine that someone has autism," she said. "There is such a broad range on the autism spectrum, a high-functioning person stopped for a minor traffic infraction could be autistic and respond adversely."   

When Robert was 10, Teresa and her family moved to South Florida. Since that time, Teresa and Robert have taught autism sensitivity to thousands of law enforcement officers in Miami-Dade and Broward counties.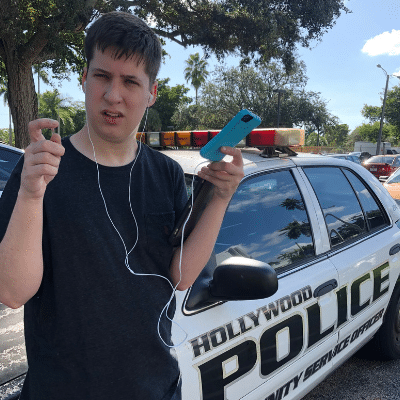 "Teresa and Robert bring a tremendous amount of knowledge and real-life experience to the classroom," said Elkin Alfred, Director of United Way of Broward County's Crisis Intervention Team, who invited the mother and son to conduct the trainings. "Our law enforcement officers have the chance to interact with Robert and ask questions, even practice how they would respond in an emergency situation. It's truly a once-in-a-lifetime opportunity to train in this way."

"It's so important that our law enforcement officers and first responders get this training," said Teresa. "They need to know that the most dangerous situation is when a child with autism wanders off. They need to know to look first at swimming pools and nearby waterways, as water is the leading cause of death among people with autism. They need to know that the strobing lights of a police car can impact an autistic person's sensory system and induce a seizure. They need to know how to handle a crisis in a variety of situations — schools, residences, public buildings, parks and more. 

"As the parent of an autistic man, I'm so grateful that United Way of Broward County has provided me with the opportunity to present this valuable information in this community."

United Way of Broward County's Crisis Intervention Team (CIT) helps law enforcement officers develop and practice skills to provide a safe, effective and compassionate response to people experiencing mental health crises. Topics in the week-long course include mental health diagnoses, crisis communication, verbal de-escalation and scenario-based trainings.  CIT conducts monthly trainings throughout the year with professionals. CIT class attendees include those from the Broward Sheriff's Office, local cities' police departments, the Veterans Administration and the United States Postal Inspection office and more.