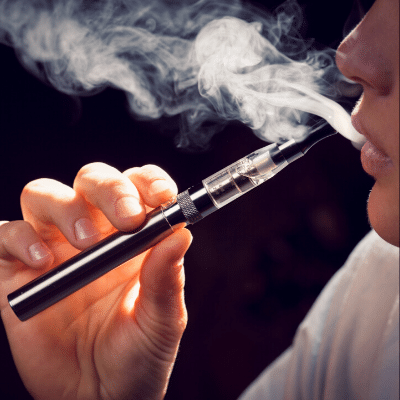 Vaping, or the use of electronic smoking devices (e-cigarettes), has become an epidemic among teens in the U.S., with nearly 5% of middle school and almost 21% of high school students reporting in 2018 that they had used them in the past month.

Unfortunately, many teens and young adults don't understand that the word "vapor" makes the practice sound like one is inhaling simple water vapor. The truth is, the battery-operated devices turn liquid into an aerosol that typically contains habit-forming and harmful nicotine and other chemicals. 

Most frightening is that doctors and researchers are finding links between seizures, neurological symptoms and lung problems among young people, whose bodies and brains are still developing. What's more, the odds of marijuana use are 3.5 times higher in people who vape compared to those who don't.  
SO, HOW DO YOU KNOW IF YOUR TEEN IS VAPING?  HERE ARE A FEW SIGNS*:
Unusual items – Vaping devices can look like USB drives and pens, and uses may have a variety of accessories, batteries that require recharging, and more.
Sweet smell – Many teens like the sweet-tasting and scented liquids that can be vaped, and you may detect the odor on them.
Increased thirst or changes in taste – Vaping makes the mouth dry and a dry mouth makes food taste less flavorful. Your child may drink more and use more salt or spices.
Nosebleeds – The inside of the nose gets dry when the vapor is exhaled through the nostrils, which can result in nosebleeds.
Unexplained cough, throat-clearing or mouth sores
Less desire for coffee, tea or soda – Vaping can cause some sensitivity to caffeine. 
At United Way of Broward County, we're working hard to fight against vaping and other harmful behaviors. Click here to download our Vaping Toolkit, created by our Commission on Behavioral Health & Drug Prevention.

*Source: University of Virginia Health System website