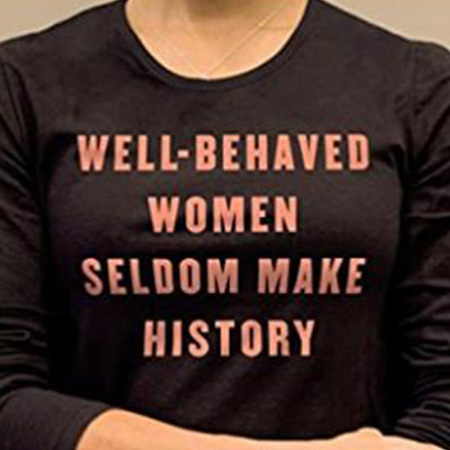 A wise woman once said, "Well-behaved women seldom make history." And while this quote has appeared on t-shirts and bumper stickers, and attributed to people from Eleanor Roosevelt to Marilyn Monroe and more, it was actually first written by Pulitzer Prize-winning historian Laurel Thatcher Ulrich.  
The fact that you may not have heard of Ulrich, but certainly have heard of Roosevelt and Monroe, demonstrates how those who do extraordinary things are the ones who are most remembered.
During Women's History Month, we remember and honor those extraordinary women who came before us… the trailblazers who fought for women's right to vote, for equal pay for equal work, for a seat at the boardroom table, for a position on the sports playing field. We thank them for doing so much to advance women's rights – but also to advance HUMAN rights in all arenas.
This year, we have been witness to many history-making national events, including the inauguration of the first woman vice president of the United States, and the appointment of the first woman manager of a Major League Baseball team (the Miami Marlins) and the first woman to referee a Super Bowl game, and so much more. And here in Broward County, we have seen countless women breaking glass ceilings, leading large organizations, and creating big change through even small businesses and nonprofits – especially during this time of the COVID-19 pandemic. 
At United Way of Broward County, we're proud to have many extraordinary women leading the charge and inspiring the change through our Women United division for philanthropic-minded women; through our Board of Directors, our Alexis de Tocqueville Society and our NextGen United; and as volunteers, donors and advocates. Our President and CEO and many of our department heads are women (and representing diverse backgrounds and ethnicities). We also so appreciate the women who lead many of our partners agencies and programs, who put their hearts and souls into making life better for all. These women are making history by fighting for the health, education and financial stability of every person in our community, and we are so grateful. 
No matter what your background or interests, United Way of Broward County is the place where women have a voice. This year, as we celebrate 10 years of Magnolia awards (honoring women of inspiration and women of promise), we invite you to join us and help us make history.