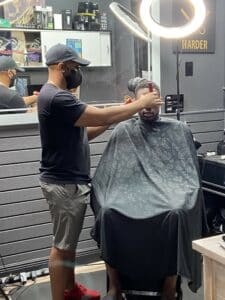 For seven years, Headz Up Hair Studio has been a popular destination in Broward County for men and boys seeking a good haircut, a shave or other grooming services. In addition, owners Jason Cole and Mario Lawson give back to the community in many ways. The hair studio served as the location for Faded Conversations, an important documentary on mental health in the Black community (click here to watch).
Unfortunately, COVID-19 greatly affected Headz Up's business, as barber shops, hair salons and nail salons were among the many small businesses forced to shut down;  Headz Up closed for four months. As with many personal care businesses, Headz Up depended on the rent paid by its eight staff members for their barber stations, and with clients unable to come into the shop, there was no income for staff or shop owners.  Jason and Mario couldn't afford to pay their rent and utility bills.
United Way of Broward County was aware of the huge impact the pandemic was having on small businesses, and particularly businesses owned by Black and Brown men and women. Using dollars donated to our COVID-19 Campaign, United Way created the Microbusiness Recovery Program, offering grants of up to $10,000 for qualifying businesses.
Headz Up applied for a grant and was one of more than 50 Black- and Brown-owned microbusinesses selected, with a total of more than $500,000 distributed.
With the grant, Jason and Mario were able to pay three months' rent and three months' utilities. Best of all, after the business was allowed to open again, they were able to allow their staff to work rent-free for four weeks, enabling the barbers and stylists to keep all the money they earned. "We are so grateful for the grant," said Jason. "It helped us help others." 
To watch a video about Headz Up Hair Studio and United Way of Broward County's Microbusiness Recovery Program, click here.