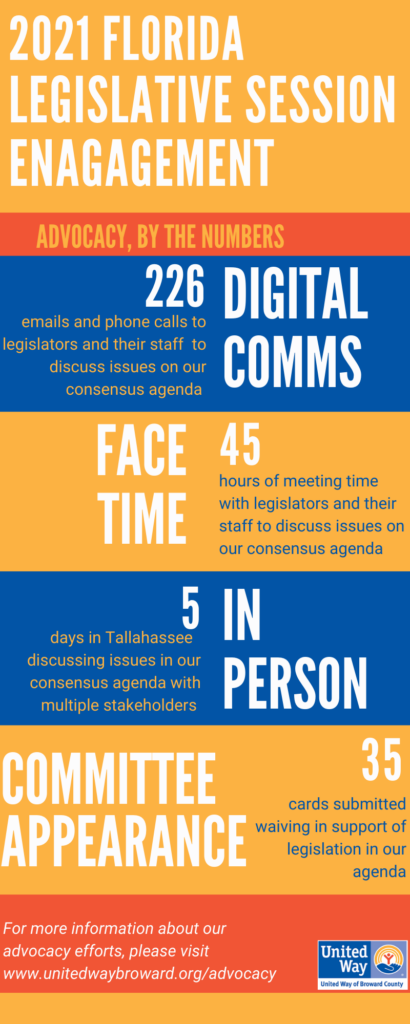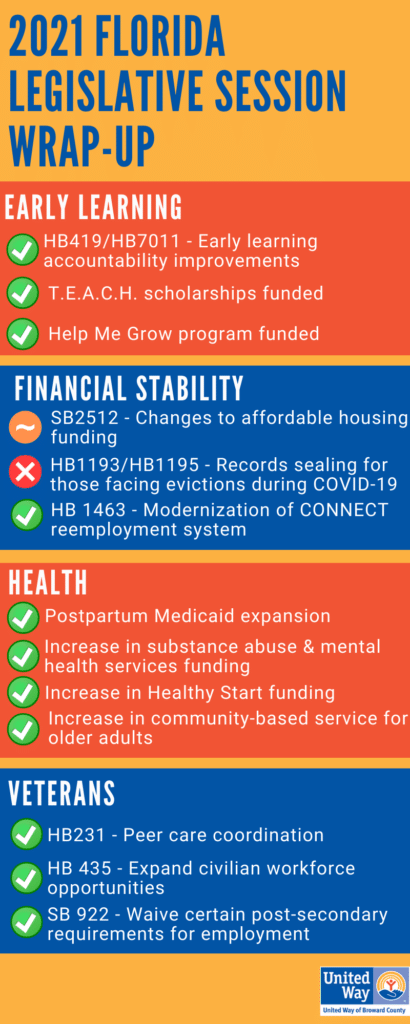 The $101.5 billion FY22 Budget signed by Governor DeSantis is 10% larger than the current year, even with $1.5B in vetoes. 

Bolstered by Federal relief funds, many of the programs that serve ALICE families and which we advocate for every year, have received full funding.  

EARLY LEARNING 
Improve transparency, accountability and performance of the state's early learning programs (School Readiness and Voluntary Pre-kindergarten), thus benefiting those who fall within the ALICE population, with a focus on equitable outcomes for children   

PASSED/SIGNED INTO LAW 

HB419 – Early Learning and Early Grade Success 
HB7011 – Student Literacy, which together will improve accountability, school readiness and alignment of standards from VPK through 8th grade. 

Increase professional development opportunities and incentives for childcare workers

BUDGET

Teacher Education and Compensation Helps Program (T.E.A.C.H.) funded at $10M, for early childhood teacher scholarships. 

Expand access to family support services that link families to local resources   

BUDGET

Help Me Grow funded at $3.9M, to connect children and families with information, resources and developmental services to enhance health, behavior and learning in the development of young children 

 
FINANCIAL STABILITY
Increase access to affordable housing by appropriating all Sadowski Housing Trust Funds for their intended purpose     

PASSED 

SB2512 – Documentary Stamp Tax Distributions, has changed affordable housing funding by:  

permanently reduced the housing trust funds by setting the allocation to the fund at around 9.7% of the doc stamp collections annually  

the amount of Sadowski Act funding will go up and down each year depending upon doc stamp projections and will include growth from the doc stamp collections 

shifting Sadowski state and local housing trust funds to recurring revenue, not subject to being cut or face future sweeps 
allocating $209.2 million for affordable housing during fiscal year 2021-22. This is the largest appropriation of Sadowski state and local housing trust funds in twelve years. 

$146.7M will go for SHIP and $62.5M for FHFC (SAIL and others) 

Allocating funding for two other programs, a flooding and wastewater treatment program, which would each get $111M.

Support keeping Floridians in their homes and mitigating the long-term impact facing people who are evicted from their homes   

DID NOT PASS 

HB1193/HB1195 – Court Records of Eviction Proceedings, would have allowed evictions to be sealed or expunged, preventing them from impacting the credit of the tenant for years to come.

Capitalize on opportunities to enhance Florida workforce development activities and initiatives   

PASSED 

HB 1463 – Department of Economic Opportunity, creates a modernized reemployment system, separately the budget allocates $149.2 million to these efforts.  

DID NOT PASS 

SB1906 – Reemployment Assistance, would have raise benefits from $275 to $375 per week and extended them from 12 weeks to 14 weeks, among other changes 
HEALTH 
Improve access to affordable healthcare for Floridians, with a focus on vulnerable low-income populations   

BUDGET 

Postpartum Medicaid funded at $239.8 million, to extend postpartum coverage for eligible mothers to "12 months or 365 days" under Florida's Medicaid program.  
Funding for Healthy Start increased from approximately 41.1 million during FY20-21 to approximately 63.1 million for FY21-22. 

Maintain targeted funding for prevention and treatment services for all behavioral health services 

BUDGET

Funding for community substance abuse and mental health services increased from approximately 850.8 million during FY20-21 to approximately 1.05 billion for FY21-22. 

Maximize home and community-based services for older adults to reduce nursing home costs and waitlists 

BUDGET

Funding for home and community-based services for older adults increased from approximately 320.7 million during FY20-21 to approximately 353.2 million for FY21-22.  
VETERANS 
Support a MISSION UNITED initiative to enhance system navigation utilizing peer support to ensure every veteran and their family that needs assistance has an in-person contact that they can utilize to access services beyond the referral process to align with the Florida Department of Veterans' Affairs   

PASSED 

HB231 – Services for Veterans and Their Families, which will establish the Florida Veterans' Care Coordination Program (Program) to provide veterans and their families dedicated behavioral health care referral services, primarily for mental health and substance abuse. Through the Program, a veteran may call a separate veteran-dedicated support line to receive assistance and support from a fellow veteran trained to respond to the calls for assistance 

Support recommendations of the 2019 Florida Department of Veterans' Affairs Forward March report to reinforce best practices, reduce redundancies and implement solutions to fill gaps   

PASSED

HB 435 – Veterans Employment and Training, which provides coordination of federal SkillBridge program which matches civilian workforce opportunities to veteran's training background 
SB 922 – Veterans' Preference in Employment, which authorizing the state and its political subdivisions to waive certain postsecondary educational requirements for employment for service members and veterans who meet specified criteria 
APPROPRIATIONS WE SUPPORTED 
Summary: Several appropriations requests submitted by members of the Broward Delegation to UWBC funded providers and/or partners.  
BUDGET/SIGNED BY GOVERNOR

HB 2169: ARC Broward Skills Training – Adults with Disabilities 

HB 3939: City of Lauderdale Lakes Alzheimer's Care Center – Alzheimer Care Services Expansion 

HB 3983: Broward Health – Integrated Medication Assisted Treatment Response (iMATR) 

HB 2897: Medication Assisted Treatment & Telehealth Enhanced Recovery (MATTER) 

HB 2511: David Posnack Jewish Community Center – Senior Kosher Meal Program 

HB 2167: JAFCO Children's Ability Center 

BUDGET/GOVERNOR'S VETO 

HB 3981: Behind the Mask: Support for Mental Health Services Through the Faulk Center for Counseling 

HB 2791: Jack and Jill Children's Center – Economic Empowerment/Workforce Development Initiative