Last summer, United Way of Broward County's Diversity, Equity, Inclusion and Anti-Racism (DEIAR) Advisory Council proposed to the organization's senior team a floating holiday that staff can use for days of cultural celebrations or days of historic meaning, like Juneteenth. Our DEIAR team consists of team members across the agency, representing diverse backgrounds, who are committed to social change, not only within our organization, but also on a communitywide level.  Our experiences differ, but we all value a workplace that is intentionally inclusive, and part of that inclusivity means setting aside time to learn from each other and our history.  For many of our staff members, last summer was the first time they had ever heard of "Juneteenth."  So we shared articles and insisted that in 2021 we would provide staff an opportunity to take part in celebratory learning activities taking place throughout the South Florida region. 

So what is Juneteenth?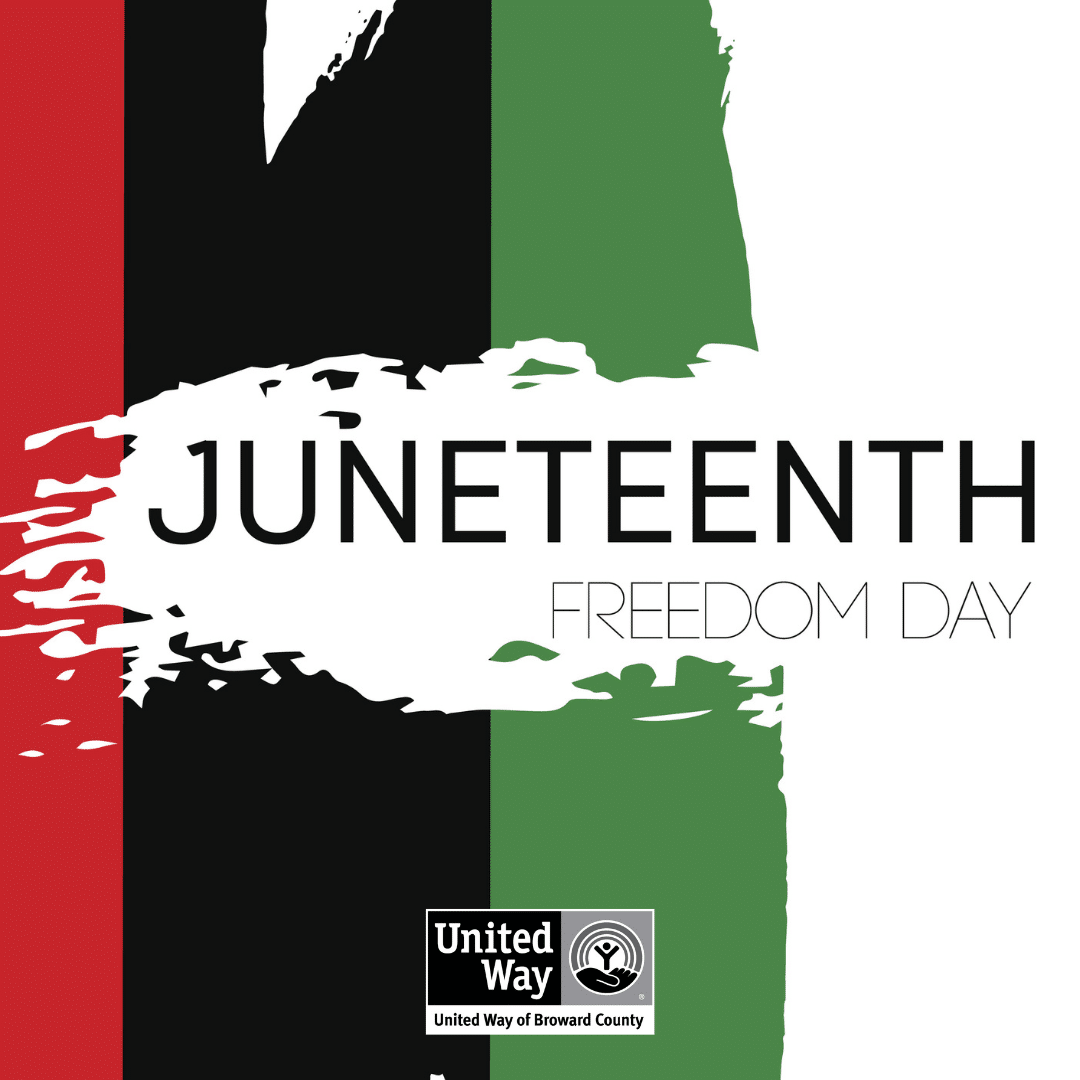 Juneteenth is short for June Nineteenth and marks the days when federal troops arrived in Galveston, Texas to notify and ensure that all enslaved people were freed. This is significant because the troops arrived 2.5 years after the Emancipation Proclamation. The reality is that the Emancipation Proclamation did not immediately free enslaved people (the ratification of the 13th amendment January 1865). The arrival of General Granger signaled freedom for the 250,000 enslaved Black Texans. The news brought forth that the Emancipation Proclamation was signed 2.5 years prior and prompted the creation of "Jubilee Day" June 19, which we now refer to as Juneteenth.  The decades following, Juneteenth commemorations have taken place in the form of barbecues, prayer services, plays and music festivals. Locally, Juneteenth activities also include recommitment activities focused on creating equitable policies, particularly around Black issues. 

Freedom is acquired not by the mere declaration of words, but by the active work of people. Let Juneteenth be a reminder that our work should be a calling of freedom – freedom to live in a country where your race is not a key indicator of your ability to thrive in the areas of Health, Education and Financial Stability. 

So let us continue to do the work that calls Freedom. Demands Freedom.  

Happy Juneteenth!