Think about it, do you really need a reason to go on a cruise? The answer is a resounding NO!

Right now is the time to explore what awaits at sea. Taking a cruise is one of the most stress-reducing activities. You've been stuck at home for the past year and are long overdue for a nice, relaxing trip.

We put together a list of cruising do's and don'ts that can help you get the most out of your next adventure at sea. Whether you are a seasoned cruise guru or are new to the scene, our list has something for everyone.
CRUISING DO'S
1.    Do prepare to be out in the sun
Sunburns can be one of those trip-ruining experiences. If you've ever had a sunburn, you know the pain can linger for a while and even get in the way of physical activities. Make sure to prepare in advance by packing sunscreen, sunburn treatment, and protective clothing. Check out this great article by cruiseaddicts.com on ways to prevent and treat cruise sunburns.
 
2.    Do keep the crew and staff in mind
When you're friendly to the staff, they will be extra-nice to you. Just like a hotel or restaurant, the staff is there to make your experience as memorable as possible. FYI – It's customary for the crew to receive tips.
 
3.    Do your research before booking
Not all cruises are built the same. Any seasoned cruise aficionado can tell you that it's important to know what you want from your cruise experience.
Is the destination important to you?
Are you looking for luxury?
What onboard activities interest you?
Are you bringing the family?
These are important questions to ask when selecting the right cruise package.

Looking for something extraordinary?  It's always a good idea to get ahead of the crowd and check out the new cruise vessels that are setting sail this year. There's nothing more exciting than being the first to test out a recently released modern ship!
 
4.    Do take your business to the sea
It's crunch time, and you're closing an important sale. But you have one problem: you need a way to WOW your prospective client. Why not take them on a cruise? What better way to make someone feel special than going the extra mile – into the sea!

Are you planning a board retreat, an employee appreciation vacation, or launching a new product? A cruise can be a great way to build rapport and enthusiasm for your business.
CRUISING DON'TS
1.    Don't miss out on offshore excursions
No matter the cruise destination, step out of your comfort zone and explore the local scene! It's easy to get nervous when visiting a new country. If you're new to cruising, you might want to sign up for a group excursion planned by the crew. If you are a cruising regular, try researching beforehand the local attractions and hidden gems. If you're brave enough to explore alone, always let others know of your plans for extra precaution. Just don't forget to get back in time!
 
2.    Don't drink to the point of no return
Drinking is always a part of the cruise experience. Many cruises offer drinking packages that can tempt anyone to a drinking overhaul! But overdoing it on the alcohol can lead to accidents, blackouts, or deteriorating hangovers that keep you from enjoying your trip. Pro tip – take breaks between drinks.
 
3.    Don't get stuck waiting on the elevators
Cruising has its ups and downs – literally! You can easily get stuck waiting for and on an elevator to get to your destination. Here's an alternative: take the stairs, cut down your wait and get to the fun quicker! It's also a great way to get some exercise in during your busy schedule.
 
4.    Don't risk getting sick
Imagine paying hundreds, if not thousands of dollars, just to get sick halfway through your cruise! It's essential to stay healthy and ahead of any illnesses.

If your excursion takes place in a foreign country, speak with your doctor about what illnesses are common in the region and how you can take preventive measures.

Also, check with your cruise company for any required vaccine mandates. Due to the rise in the COVID-19 Delta variant, many cruise companies require that passengers be vaccinated to sail. Click here to learn the myths and the facts about the COVID-19 vaccine.
SAIL AWAY WITH UNITED WAY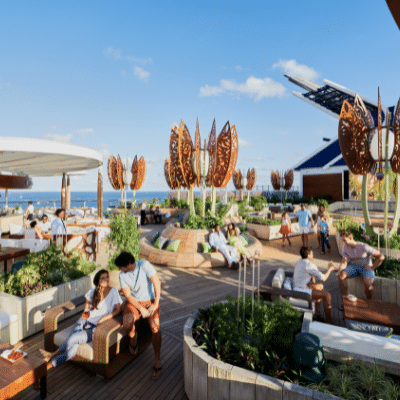 Celebrity Cruises, the company that brought you modern luxury vacationing, is sailing again! Introducing the Celebrity ApexSM, a revolutionary ship that's poised to change the way you experience the world.

Enjoy a 2-night stay and all-inclusive cruise on the open water aboard Celebrity ApexSM, departing from Port Everglades.  One hundred percent of the proceeds from this event go directly to your United Way of Broward County. Limited availability.

Anchor down your spot by clicking here!