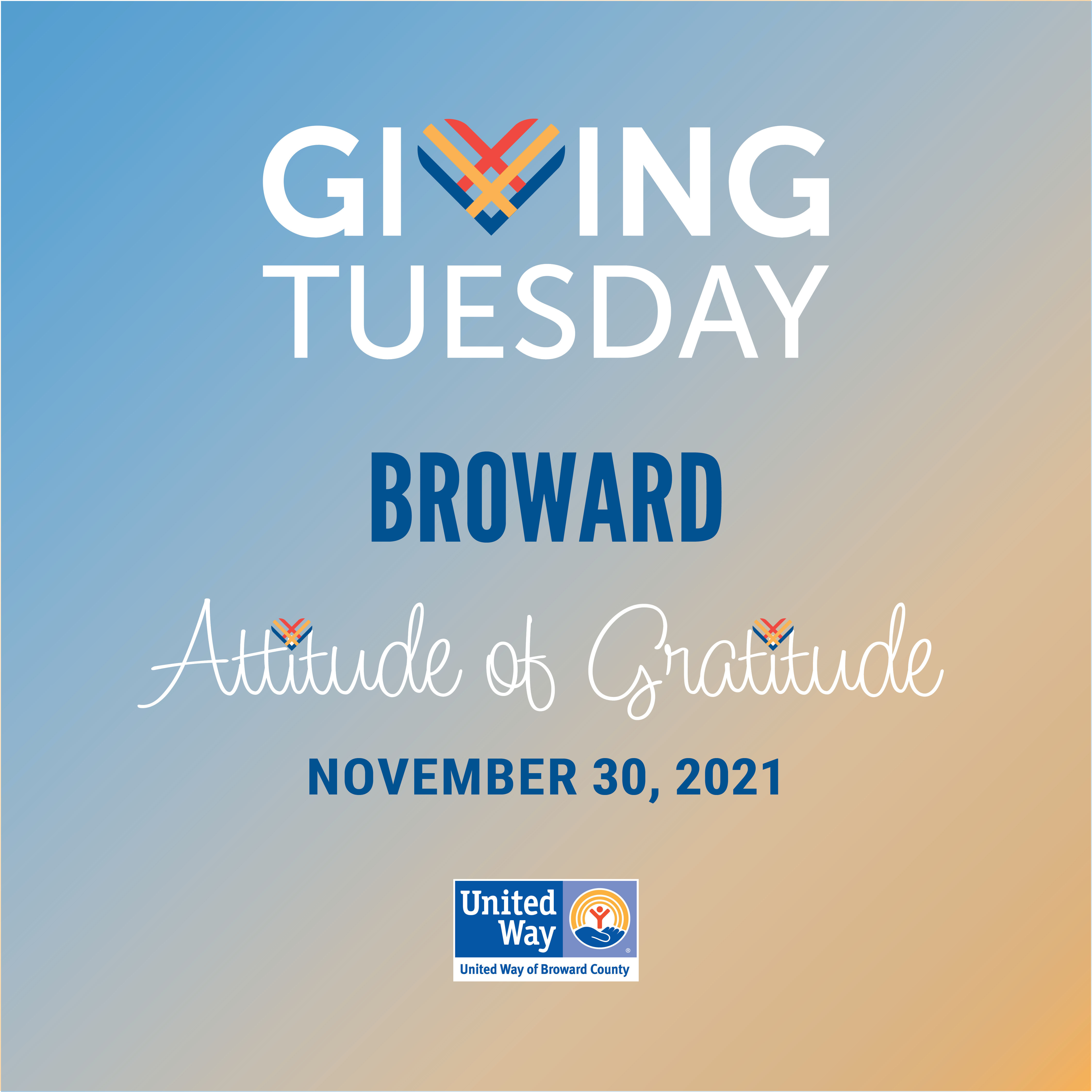 Giving Tuesday takes place each year on the first Tuesday after Thanksgiving, Black Friday and Cyber Monday. This year it is set to take place on November 30th.

This international movement encourages people from all walks of life to show their gratitude by giving back in any capacity.

That is why United Way of Broward County's theme for Giving Tuesday 2021 is the Broward Attitude of Gratitude! It encourages Broward residents to share what they are grateful for while also remembering those still in need.

We created a list of ways Broward County residents can show their Broward Attitude of Gratitude this holiday season to support our Giving Tuesday campaign.

 
1 – HELP DRIVE UNITED WAY OF BROWARD COUNTY'S MISSION
There is a reason United Way of Broward County is the go-to organization when addressing Broward residents' vast and ever-changing needs – it's in our mission!

United Way of Broward County fights for the Health, Education and Financial Prosperity of EVERY person in our community. We look at the community as a whole and root out the underlying issues impacting our residents. We address the concerns everyone is aware of and those that are less obvious but no less critical. Once we identify those issues, we work with the community to find long-lasting solutions.

Below are just a few ways United Way of Broward County has given back to the community throughout 2020.
Our Project Lifeline program, designed to provide access to fresh and nutritious food to those in need, helped provide 1.7 million pounds of food to 525,082 individuals in our community.
Our MISSION UNITED program, designed to help Veterans acclimate to civilian life, helped unite 829 Veterans to housing support.
Our Commission on Behavioral Health & Drug Prevention program, designed to support and educate the community about mental health and substance abuse, helped reach 22,000+ middle and high school students through programs and events.
That's only a small sampling of our work. With our partnership, operation and funding of more than 100 initiatives and programs, you can rest assured your Giving Tuesday gift will directly impact families in need, those who are working hard, but falling short.

Click here to make a gift for Giving Tuesday.

 
2 – USE AMAZON SMILES FOR YOUR ONLINE PURCHASES
The holiday season can always be tough on the pockets. The need to buy gifts, decorations, food and end-of-year donations are all piling up.

On top of the financial strain sometimes brought on by the festivities, online orders may be delayed due to logistical slowdowns related to the pandemic. Experts recommend ordering your gifts now to ensure they arrive before the holidays.

Despite these obstacles, there is a way you can support those in your community through United Way of Broward County while making your holiday purchases.
It's called Amazon Smile! Amazon Smile is a FREE Amazon service that donates a portion of eligible purchases to your charity of choice – no fees, no extra cost.
Sign in to your Amazon account using this link – smile.amazon.com.
Once you sign in, search and select "United Way of Broward County" as your preferred nonprofit.
Start adding your purchases to your cart and check out! Amazon takes care of the rest.
Remember, you must sign in through smile.amazon.com for our United Way to receive a percentage of the proceeds.

Click here to learn more about Amazon Smiles.

 
3 – ENCOURAGE YOUR EMPLOYER TO GIVE BACK
Have you heard of the term Corporate Social Responsibility? It's become immensely popular and important to companies and customers alike.

The phrase refers to a company's social and economic accountability and participation in its community. Some companies have taken this concept to heart and developed committees, boards and internal departments. Corporate Social Responsibility has come to define the culture and personality of companies.

Giving Tuesday is an excellent chance for your company to show off its Corporate Social Responsibility!
Encourage employees and colleagues to help reach a fundraising goal to support United Way of Broward County on Giving Tuesday.
Hold a raffle for inexpensive knickknacks and prizes. The proceeds collected can be donated directly to our United Way.
Enlist your company to fund a corporate sponsorship for United Way of Broward County.
Click here to learn how your company can support those struggling in our community through a corporate sponsorship this holiday season.

 
4 – SHOW YOUR GRATITUDE BY GETTING INVOLVED
Author Melody Beattie once said, "Gratitude turns what we have into enough, and more. It turns denial into acceptance, chaos into order, confusion into clarity…it makes sense of our past, brings peace for today, and creates a vision for tomorrow."

For us at United Way of Broward County, that vision for tomorrow starts with the prosperity of EVERY person in our community.

Below we list a few ways you as a donor and volunteer can show your gratitude this holiday season while supporting United Way of Broward County.
From now until December 6th, you can adopt a family in need by providing gifts during the holiday season through our Adopt a Family 2021 Holiday Drive. Click here to learn more.
Do you have an old shoebox lying around? You can reuse the shoebox and fill it with new toiletries for individuals grappling with obtaining those essential items this holiday season. Join us at our 30th Annual Day of Caring on December 11th. Click here for more details.
Our 2022 Mayors' Gala is quickly approaching. This is an opportunity for you to dance the night away while uplifting a good cause. Click here for ticket prices and details.


There are plenty of ways to participate and support United Way of Broward County help those in need this Giving Tuesday without breaking the bank!

All you need is creativity and rallying power to get your community involved.

Click here for more information about United Way of Broward County's Giving Tuesday campaign.