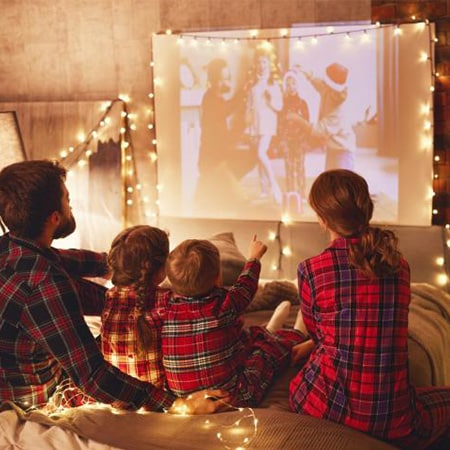 The holidays are here, and the fun family traditions are underway!

Whether it's the annual family holiday trip or the classic holiday photos, we all have cheerful generational traditions that remain unbroken and unchanged. But it's good to shake things up now and then.

We put together a list of 6 alternative holiday traditions that are sure to bring a WINTERful holiday season!

WATCH NEW HOLIDAY MOVIES
We all have that one timeless holiday film with a special place in our hearts. Movies like Home Alone, Dr. Seuss' How The Grinch Stole Christmas and Die Hard – yes, it's a holiday film – are watched without end!

Switch things up this year and add some new holiday films to your watchlist. Disney+ has a wide selection of memorable holiday movies that are sure to get your family binge-watching! For some inspiration, check out this article from Good House Keeping on the 35 best Disney+ holiday films.
WHIP UP SOMETHING NEW IN THE KITCHEN
Let's admit it, we all enjoy eating some holiday treats! Who can say no to a delicious glazed ham or mouthwatering sweet potato pie? These classic dishes will always be a highlight of the holidays.

This year, we encourage you to change up your traditional holiday menu by including something new, daring and possibly foreign! There are countless international holiday meals that your family will surely enjoy.

From Peru's spicy hot chocolate to Canada's butter tarts, this article from Healthline highlights 15 Unique Holiday Foods from Around the World that will have your family feeling like you're visiting abroad. Make the experience even more memorable by having the family participate in the process!

VISIT A LOCAL HIDDEN GEM
South Florida is a popular destination spot for tourists during the holidays. Who could blame them? After all, we live in paradise.

Besides the usual places to visit, South Florida is full of hidden gems.

Within Broward County, there are various sites you can take the family during the holidays. So instead of heading over to the beach this month, try exploring something out of your comfort zone! Below we list a few of those spots.

Yellow Green Farmers Market
Location: 3080 Sheridan Street, Hollywood, FL 33021
Hours: Saturday and Sunday from 10 AM to 7 PM
Location: Broward County Rest Area on I-75N, Mile Marker 35 Fort Lauderdale, Florida 33327
Hours: Call for times
Location: 3750 S. Flamingo Road, Davie, FL 33330
Hours: Monday through Sunday from 9:30 AM to 5 PM

ZEST UP YOUR HOLIDAY PARTY
If you're the type that loves holiday parties, try incorporating a unique theme to your big get-together! Ensure the theme is relevant, fun and inclusive for all your attendees. We list a few ideas below.
Superhero pajama get-together
New Year's resolution share-and-tell
Guess who – baby picture edition
Donut decoration throwdown
Office party talent show

SNAP CREATIVE HOLIDAY PICS
Taking holiday pictures is always a delightful tradition to do with the family! The matching outfits, the holiday decorations and the glittery props in the background always bring joy.

Try changing things up with these untraditional holiday photo ideas.
Recreate a holiday picture from when you were a kid. Nothing brings back memories like those throwbacks!
Use fun props to add a pop! Try making your own or using abstract and goofy objects to give your family and friends a giggle.
Take off-guard shots of the family doing an activity together, such as cooking or decorating. They come off as more authentic and creative.
Duplicate your favorite holiday movie cover with your family.

CREATE A NEW YEAR'S RESOLUTIONS VISION BOARD
As we welcome 2022, let's take those traditional New Year's resolutions that we write down and create a vision board! A vision board is a collage of pictures and written out pledges of plans and wishes one wants to accomplish. This can serve as your family's source of inspiration for the coming year.

Sit down with your family and discuss a few main goals you want to accomplish in the new year. Whether it's a long overdue trip, a new car or a new job, place those desires on your family's vision board and watch them materialize!

Check out this article from Oprah Daily for more information on creating your vision board.

If none of these alternative holiday traditions match your style, brainstorm with your family and design activities or changes to your current customs. A small change can create long-lasting fun for the entire family!