PLUS 4 WAYS YOU CAN JOIN THE CELEBRATION ON AUGUST 17TH

Every year, National Nonprofit Day is commemorated on August 17th to recognize and celebrate the ongoing efforts and service of millions of nonprofit organizations to countless people and communities. Author and speaker Sherita J. Herring launched National Nonprofit Day to educate, enlighten and empower others to make a difference and to acknowledge the millions of people who are making a positive impact every day.

Nonprofits provide people with accessible services to improve their lives, and some examples include housing support, health, education, care for children and so much more — and often the individuals and families who benefit from this assistance with nonprofits otherwise could not afford these services.

Nonprofits also provide millions of jobs to Americans and represent a relatively huge portion of the United States GDP. Additionally, the revenue of nonprofit organizations has more than doubled over the past decade, and the annual revenue of nonprofits in the U.S. totals $2.62 trillion.

Check out these incredible statistics illustrating the power of nonprofit organizations:
There are 1.5 million nonprofit organizations in the United States.
Nonprofits employ 12% of the U.S. workforce —the third-largest industry in the U.S.
The nonprofit sector contributes $887.3 billion or 5.7% of the United States GDP.
In 2022, $500 billion was given to nonprofit organizations.
64% of this $500 billion came from individual giving.
Nearly all nonprofit subsectors are exceeding pre-pandemic giving levels.
57% of donors are enrolled in a recurring giving program — an increase from 46% in 2021.
25% of the population of the U.S. registered to be a volunteer.

Without a doubt, nonprofits are shaping of our society and providing hope for millions of people — and United Way of Broward County is at the forefront in our community to create a healthier, better place for every person who lives here.

Over 50% of Broward County's population either are considered ALICE (Asset Limited, Income Constrained, Employed) or below the federal poverty line. These people are working hard, but still struggling to afford essential needs — and they often are just one emergency away from disaster. We all know someone among the ALICE threshold. They can be nurses, childcare workers, retail employees, drivers, people who live and work in our neighborhood.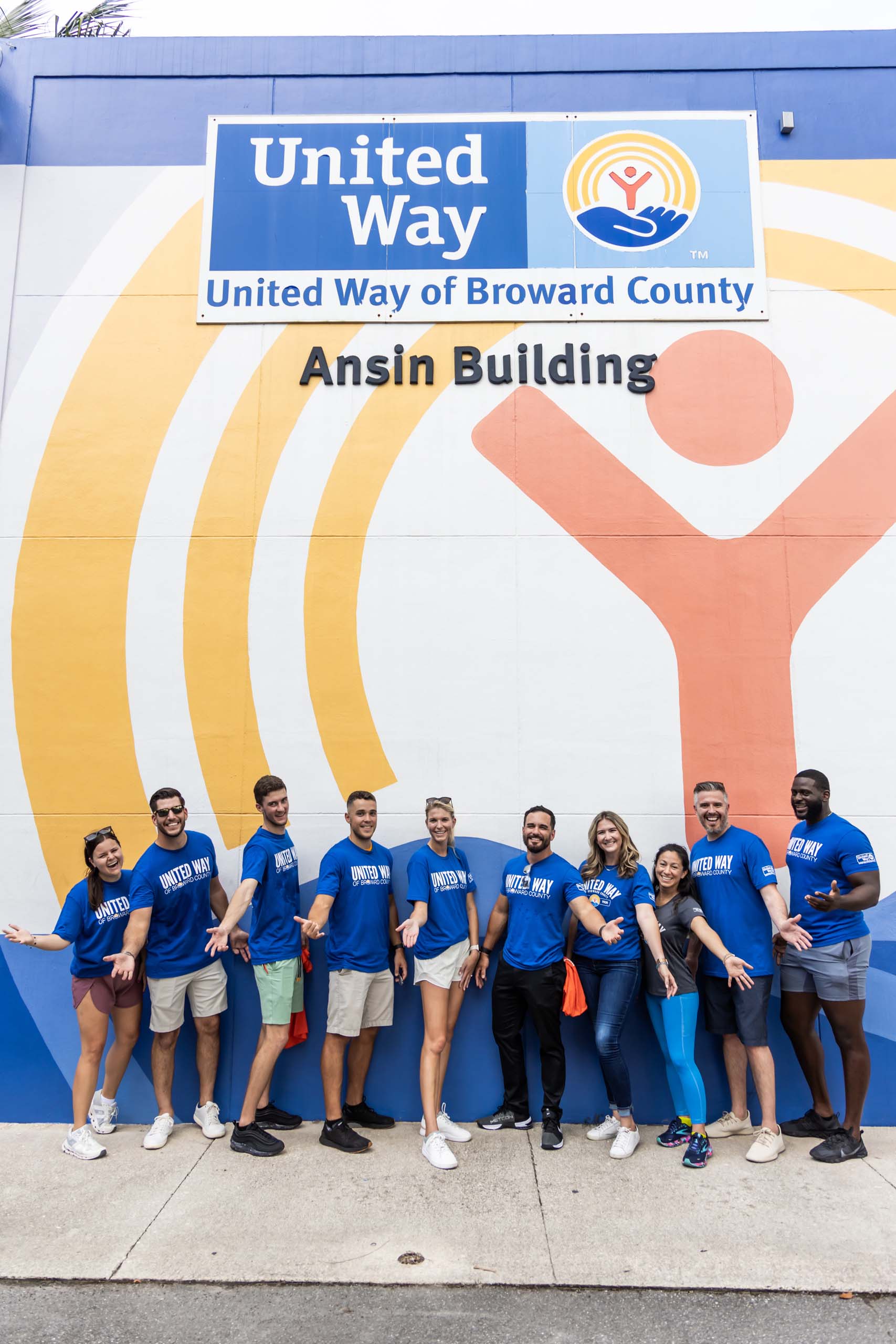 Rather than focus on only one cause, United Way of Broward County brings a wide spectrum of assistance to improve our entire community. We operate and fund 130+ programs and services supporting the health, education and financial prosperity of these children, adults and seniors — encouraging literacy among children, feeding families experiencing food insecurity, housing people who are near homelessness, preventing and reducing risks of suicide, providing companionship and activities to our senior population, and much more.

We love National Nonprofit Day. It's a day to recognize the monumental power nonprofit organizations have and the ways all of us can do enormous good in the world. Right now in Broward County, a volunteer is reading to a young student; an isolated senior is being connected to companionship; a person with a disability is being connected to a job; a lawyer is providing legal services to a Veteran; a family is moving into a new home.

At United Way of Broward County, we are making these experiences happen every day, and on August 17, National Nonprofit Day is one way we celebrate how we are changing and saving people's lives.

How can you support nonprofits like United Way of Broward County on August 17?
Become a volunteer. United Way of Broward County has ample opportunities for you to change lives. For example, you can read to children to improve their literacy, help at a food bank or provide support to a Veteran. Get connected through our volunteers page.
Make a donation. Your support of our United Way can bring immediate help to at-risk children, isolated seniors, individuals with special needs, victims of abuse and families struggling to make ends meet. Any amount you give makes a tremendous difference — and the impact of your donation is amplified with a recurring gift!
Raise awareness. Contribute to the efforts of nonprofits around you by posting on social media to support their missions. Give a shout-out on your social channels to someone you know who is a donor, volunteer or employee of a nonprofit. United Way of Broward County is active on Twitter, Facebook, LinkedIn, Instagram and even TikTok. Share your recognition or stories with us! And include the hashtags #LIVEUNITEDBroward and #NationalNonprofitDay in your posts.
Spread the word to family, friends and coworkers. Your knowledge and experience can motivate others to get active and become champions for the causes they care about. When nonprofits do well, we all do well!

Click here to learn about United Ways of Broward County's extensive impact in our community through the 130+ programs we are operating and funding.