BE AN ADVOCATE FOR SOCIAL CHANGE
Broward Youth Coalition is a group of young leaders who work to become youth advocates for substance abuse prevention and mental health promotion in their communities.
The objective of BYC is to include and unite existing clubs and to complement current programs in the schools. BYC currently in 2022 now has 3 school-based clubs: Atlantic Technical High School (ATC), Westglades Middle School and Fort Lauderdale High School.
BYC Action Team through United Way of Broward County's Commission on Behavioral Health & Drug Prevention has a community-wide BYC club as well. Please see below for details.
BYC members lead by example and encourage their peers to make healthy decisions. BYC members include middle and high-school students across Broward County who are dedicated to their communities. Youth who actively participate in BYC will be better equipped to remain drug-free while successfully navigating school transitions, college and their future.
BYC offers its members opportunities to participate in meaningful volunteer opportunities, network with community leaders, explore college and career options and to develop both personal and professional skills. To become a BYC member please fill out the form by clicking the link below.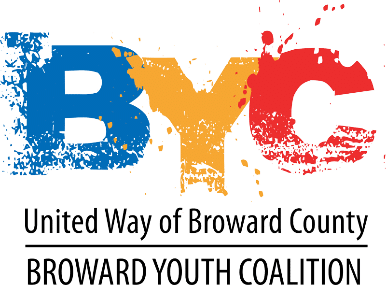 2022-2023 EXECUTIVE BOARD
Elizabeth Insuasti, Senior, FAU High School
Vincent Ciullo, Sophomore, Marjory Stoneman Douglas High School
Angeles Mejia, Junior, College Academy at Broward College
Ava Havidic, Junior, Millennium 6-12 Collegiate Academy
Nicolas Betancourt, Junior, Marjory Stoneman Douglas High School